With over 31 years of market experience, we, Kumar Ceramics Pvt. Ltd. have established ourselves as a leading manufacturer, supplier & exporter of Alumina Boats & Trays, Alumina Crucibles Dish Disc, Ceramic Liners, Combustion Boats & Trays, Cylindrical Grinding Media and Rectangular Muffles. Additionally, we offer Refractory High Temperature Ceramic Products, Thermocouple Beads or Sleeves, Thermocouple Protection Tubes, Tubes for Heating Coils etc. From A grade material, our products are made by skilled workers in conformation with the national norms. The thermocouple products we offer are well praised for their accurate designs, anti-corrosive nature and ability to withstand high temperature. Apart from our impressive product-line, factors such as focus on research & development tasks and ability to fulfill even the bulk or immediate demands in less time period have made us a celebrated company.
High Quality Servings- Our Identity
We are well known in the market for the superior quality products that are offered by us to the valuable customers. To retain our reputed position in the market and to grow more, we are highly focused towards making and delivering the best to the clients. Our quality inspectors keep an eagle eye on all the production stages of Alumina Boats & Trays, Burner Blocks, Combustion Boats & Trays, Rectangular Muffles, Thermocouple Beads or Sleeves, Tubes for Heating Coils etc. so as to ensure their abidance with international norms. Further, they also examine entire developed gamut in a modern quality evaluation division to ensure perfection in all the aspects.
Products Index
Our company is into
manufacturing, supplying
and
exporting
a qualitative gamut of the following:
Alumina Boats & Trays
Alumina Crucibles
Alumina Crucibles Dish Disc
Burner Blocks
Ceramic Liners
Combustion Boats & Trays
Combustion Tubes
Fiber Furnaces Refractory Supports
Cylindrical Grinding Media
Kiln Furniture
Mullite Crucibles
Rectangular Muffles
Refractory High Temperature Ceramic Products
Round Muffles
Saggars
Thermocouple Beads or Sleeves
Thermocouple Tubes
Thermocouple Protection Tubes
Tubes for Heating Coils

An Overview of our Infrastructure
In a prime location of Baleshwar (Odisha, India), we have built our robust infrastructure set up, where all the trade operations are carried out by the appointed workforce. It is constructed in sync with latest architectural layout and have all the amenities that are needed for efficient working of production and post-production tasks. Our modern manufacturing cell has several latest model cutting, welding, lathe and many other specialized machines & tools that aid in making products in a good pace. Post completion of the production tasks, our entire range is stocked as per categories in an organized manner at the spacious warehouse.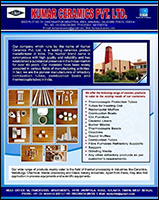 | Manufacturing Process |

Key Information:-

Business Type: Manufacturer, Supplier, Trader, Wholesaler, Distributor and Exporter
Year of Establishment: 1984
No. of Production Units: 01
Monthly Production Capacity: As Per Clients' Requirements
No. of Specialized Engineers: 02
No. of Specialized Designers: 02
Total No. of Employees: 40